There are more laws than 48, right?
The laws I'm referring to, are the 48 Laws of Power. I recently finished reading the National Best Seller book by Robert Greene, "The 48 Laws of Power." This book has changed my out look and how I do business.
Robert Green, is also the author of the book, The Art of Seduction. I'm a big fan of reading books about Sales, but this is not one of them. One day I was watching a short film by Max Joseph called, "Dicks.," This short film is about, do you really have to act like a Dick, to be powerful in life. And the book was referenced in the movie because you know how to get power to be successful in life. It's a good film, you can watch it on YouTube. https://youtu.be/gRRvjZ_XNog
Well soon after watch the movie, I ordered the book on Amazon. It took me about two weeks to read it. Some of the Laws of Powers that really pertained to me or used I've high lighted below. I recommend reading the book and find your power.
Law 2 – NEVER PUT TOO MUCH TRUST IN FRIENDS, LEARN HOW TO USE YOUR ENEMIES
It's almost like the saying, "Keep your Friend close and your enemies closer." Friends will betray you in a heart beat. Don't trust them. Friends will take your kindness for weakness. This is why I don't have friends. In business you always want to be interested in your competition, your enemy.
Your enemy will be more loyal to you because they want to know your next step and they will be more caring to you because they know your moves are valuable. One of the things in Law 2, "If you have no enemies, find a way to make them." Friends don't give you power because friends think you are at their level.
Your enemy will give you power. Learn to make more enemies than Friends.
Law 1 – NEVER OUTSHINE THE MASTER
We sometimes look at experts and think to ourselves, "I know more than them," or "They are doing it wrong." Remember they are the expert, they are the Master. Let them be the Master, even though you know there theories or methods might be wrong to you or out dated. Don't ever try to correct the Master because you will lose. Continue letting them think they are right and praise them.
Believe it or not, by praising the Master they will give you the power. Without the Fan, the Master has no Power. A famous singer will have no power without Fans. By you buying their music or purchasing tickets to there concerts, you have the Power, not them. Your putting the coin in the machine to make the puppet sing. In the end you can probably Sing better than them.
LAW 7 – GET OTHERS TO DO THE WORK FOR YOU, BUT ALWAYS TAKE THE CREDIT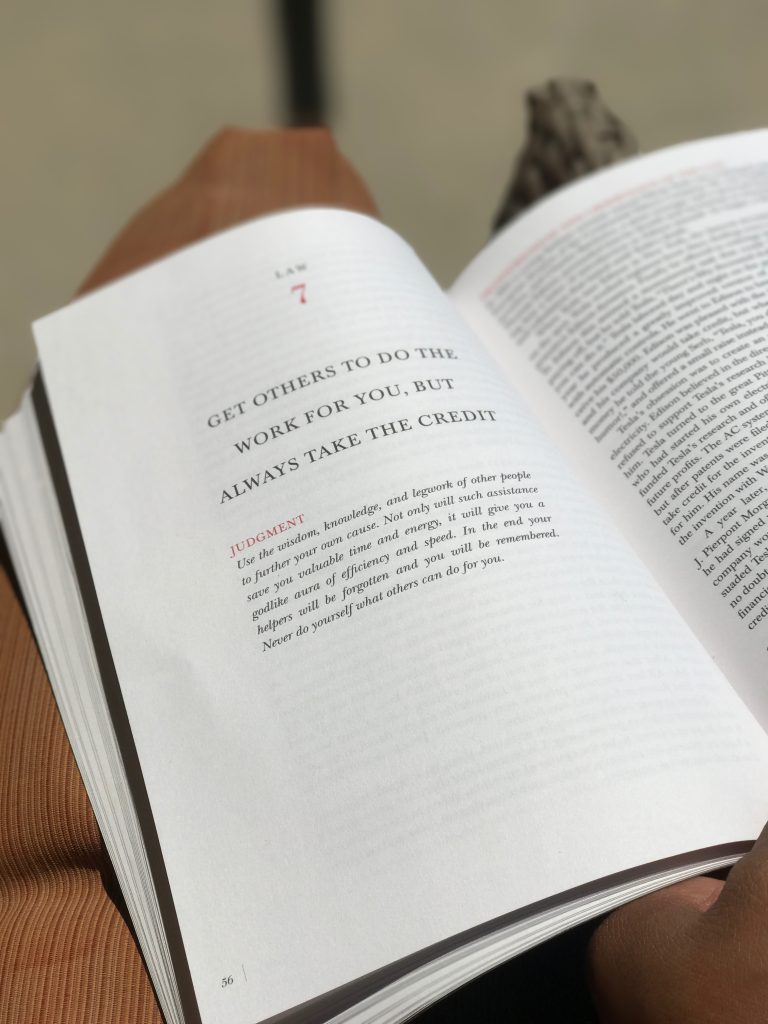 This happens all time in the corporate world. Other people do all the hard work and one person takes the credit. The designer of a building will get paid more than the people who build the entire building. Alway be knowledgeable of anything that you do, because in the end no body will remember who you are. But the person that takes charge and knows how to delegate will have the POWER. Let others do the work that you can do but make sure you take the credit.
LAW 40 – DEPISE THE FREE LUNCH
Any time someone offers you something for Free there is usually something else that is going to come with it. If a person wants to take you out to lunch, they usually have a more expensive agenda than the value of the meal.
I have a couple examples to explain. Here's a simple one. Someone offers a Free pair of tickets to a baseball game. Wow, that is awesome. If you really break it down, yes the tickets are free, with a value of atleast $24.00.
But how a company afford to give a free pair of tickets. Out of the $24.00, you still have to pay for parking at the stadium. In San Diego, this will cost about $20.00 for parking. Once arriving there you need to grab some food. Since your mentality is that you get free tickets, they you don't mind splurging on food and drinks. Last time I was at a baseball game I spent $65.00 on food.
After the game, since you spend $20.00 for all night parking you want to take advantage of that. You and your date might want to go out after for a night cap which will cost another $40.00.
So now do you know how a company can afford to give away $24.00 tickets. In the end the ROI for them to make a total of $125.00, it's definitely worth it. Nothing is Free.