Tesla Model S Road Trip:
San Diego, CA to Las Vegas, NV
I recently took a long road trip to Las Vegas in my Tesla Model S.  After having my Tesla for almost a year, I wanted to experience a real road trip in it.  My wife and I were thinking about a place to celebrate our 1 year marriage anniversary.
"What better place to celebrate than
Las Vegas, Nevada."
In order to make the most of our experience, I need to map out our trip.  Now the experience was going to be different because now we have no choice but to stop and charge.  Back when we I had my BMW 650i, I was able to make the trip in 5 hours.  Ideally, I would stop in Primm, NV to fill up and of course to shop at the outlet mall.
The Tesla I own is the Model S 60.  This model gives me about 2o5 miles on trip mode, so I had to plan accordingly.  My iPhone has the app called SuperChargers.  This app allows you to see what Tesla Supercharging Stations are on the way of your trip.
The night before our trip I made sure I set my charge for, Trip Mode, which took my miles from 185 to 205.  I did notice some major battery degradation.  When I first purchase my Tesla I was able to get 210 miles to 215 miles.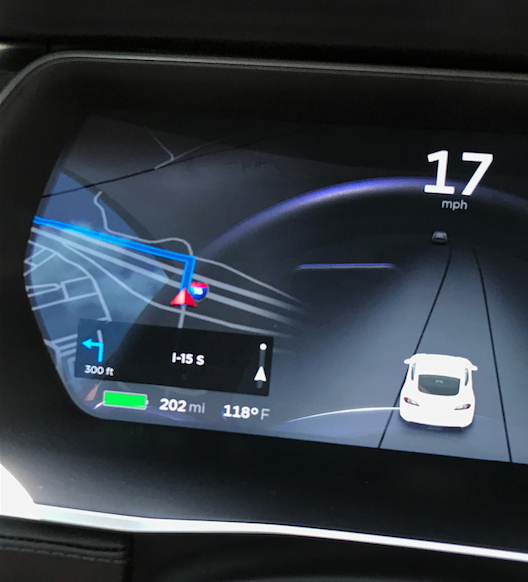 Always, make sure I pack your Tesla charging cable.  This will ensure you don't get stuck some where and you will be able to charge.  It's almost like packing your iPhone charging cable when you go on vacation.
The morning of our journey to Las Vegas was here.  We set off on our trip, and our first stop was the
Tesla Supercharging Station in Temecula, CA.
This charing station was location located on the 3rd floor of the Winchester Mall, parking structure.  We didn't need to stop here, but I just wanted to get an accurate reading.  We arrived at the mall with 119 miles to go.  It took 84 miles from our first destination.  Since we decided to stop here.  We took our time to walking around the mall.  About Twenty five minutes later my car was done charing, It was charged back to 203 miles and ready to go.
Our next destination was Barstow, CA.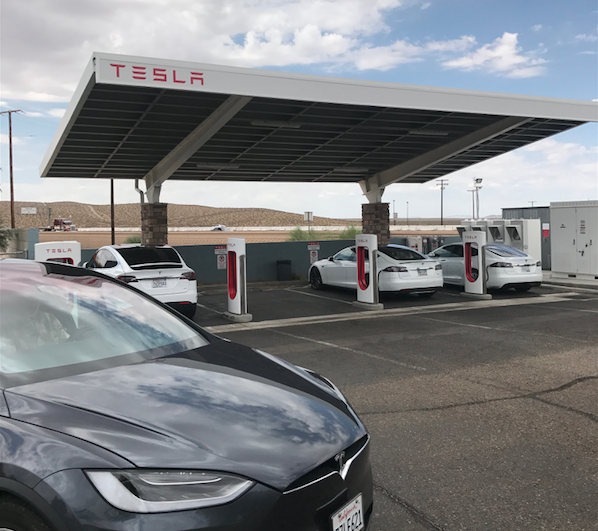 After leaving Temecula we had about a 135 mile drive to reach the next charging station.  At this point I started to realized having a Tesla really slows you down.  I only mean this is a good way.  When I used to travel to Las Vegas all I want to do is make it a race there.  Now that I'm more mature,
I thought to myself,
"Las Vegas is not going anywhere."
So having my Tesla really has calmed me down.
Once arriving in Barstow we had 72 miles remaining.  Luckily, the charging stations are behind a Chili's Restaurant.  As we charged, we where able to enjoy a iced cold Mango Iced Tea, and indulge in a Molten Lava cake.  Companies are smart, they strategically place changing stations, next to Malls, Restaurants, Hotels.
Elon Musk, my hat is off to you Sir!
Are we there yet?  This travel experience has be so pleasant.  If I would give you an analogy of this trip is,
"Owning a Tesla allows you to stop and Smell the Roses."  
Here is another one,
"Owning a Tesla allows you to experience, A, B, C, D, E, F, G… Instead of just shooting for Point A to Z."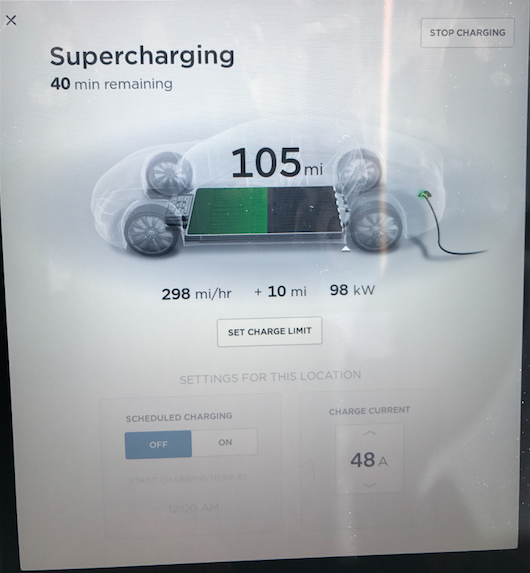 Next stop Primm, Nevada.  This is one of my favorite stops because this is where I used to fill up when I had my BMW.  It also gave me the opportunity to shop at the outlet mall for some good deals.
I did get some range anxiety. Barstow, CA to Primm, NV is about 145 miles.  That distance was going to suck up some range from my Tesla.  If you've ever visited to Primm, NV you should know it has a long down slope to it.  It took that as a blessing because the whole way down the hill I didn't even use my pedals.  I was able to use my Regenerative Braking and the same time charge my batteries.  Sweating bullets is an understatement.  Upon arriving to Primm, NV the Telsa had 64 miles left.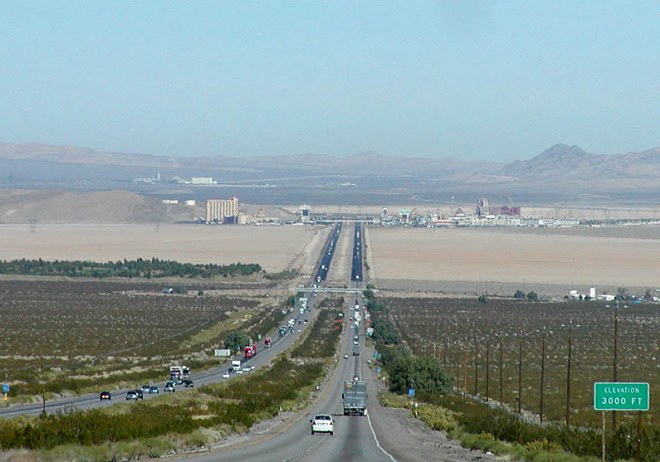 Trust me, I could have made it into Las Vegas, but that would have been pushing it.  Las Vegas was only 45 miles away.
I needed to stop and go shopping at the Primm Outlet Mall.
Once again the Tesla had a complete 203 miles.  It's time to arrive to Las Vegas.  So far my trip is at about 6 1/2 hours compared to my 5 hour norm.  Did that really make it difference?  I still had another 35 minutes to drive into Las Vegas, which would put my total trip at 7 hours.  Interesting…
Would you sacrifice saving money on Gasoline for an extra 2 hours of travel time?  
At the same time knowing that you did not even omit one once of carbon monoxide.  To me that is worth an extra 5 hours.
One thing I did notice is that you make friends while waiting at the Superchargers.  We kept running into an older couple that was heading the place we were.  They were from Venice Beach, and wanted to chill out in Las Vegas.  This older couple had the Model S P100D.  Holy Crap they had the top of the line Tesla.  You go, guys… They were enjoying their retirement.
That was an awesome experience.
Shopping was done and finally headed to our last leg of this trip.  Upon arriving to Las Vegas we had 164 miles left.  Wow, what a journey.  We were they for 3 days and I didn't have to charge until we came back to Primm again.  My wife and I celebrated our 1 year Wedding Anniversary.
All in all I think a Tesla owner is one that cares for the environment and also is at a point in their life where If you are important people will wait for you.  I'm the Tesla owner that likes to plan and always has a back up plan.  I'm in the mindset of,
"I'll get there, when I get there, but I will always be on time."  
WATCH MY VIDEO SO YOU CAN EXPERIENCE MY TESLA ROAD TRIP