"A Man will be Judged by Two Things in Life,
His Watch and His Shoes." – Robert Herjavec
This is my opinion and guess what?  My opinions are facts… LOL.  One of the things we want in life is to be successful and more importantly for me be respected.  I'm in the position that every day of my career I'm in front of hundreds of people and one of the things I want to portray is that I'm serious and I mean business.  You come to me because you want something and I can't show you how to be that something if I'm not it.
I can't show people how to be successful if I look like a bag of ass.  In order to show success I need to be success.  Everyone today is always asking for proof or testimonials so as successful business people we have to be ready to furnish that sustaining proof.  Unfortunately, not only do you have to be the part you also have to look the part.
It's Like a Poor Man telling you how to be Rich.
You'll never believe a less fortunate person to lead you to the path to success if they don't have 2 pennies to rub together.  The same way I look at it when I'm trying to show or teach you how to be successful.  I have the proof and not only do I have to talk the talk, I also have to walk the walk. My Shoes and my Watch will tell you everything about me without even knowing my name.
First thing a Woman see's on a Man is his Shoes.
I'm not here to show you how to pick up a woman, I'm married now and don't need to anymore.  But in my opinion this is true.  Your shoes will say a lot about you.  The way you wear them, they way you take care of them, even polish them, people will judge you.  This will be the judging point for people.  I'm not here to impress anyone with name brands, but you have to take me serious.  Don't ever trust a man that doesn't have what he's selling.  Read: What Your Car Says About You
Have you Ever seen a Man or even a Celebrity that Looks almost Homeless.
What I mean he's wearing a dirty ass shirt, not shaven for 3 weeks, hair looks like a birds nest, and jeans so stained and ripped.  He looks like he just finished changing his oil on his car.  Looks like ass right?  But what brings this homeless ensemble together is he's wearing Gucci Jordaan Loafers and a Rolex Day-Date.  As soon as you see those shoes and watch nothing else matters because you know those shoes and watch are probably worth more than your car.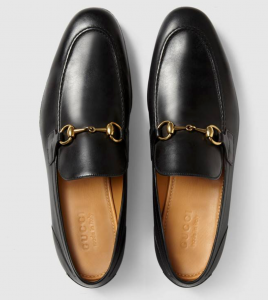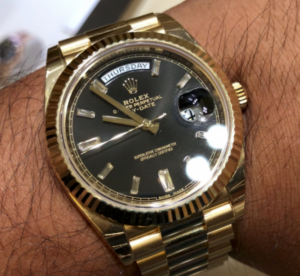 Gucci (Jordaan) Black Leather, that compliments Rolex Day-Date (Presidential)
Now this Homeless Looking Person is now Very Fashionable
I'm not saying to go out and spend $1000.00 on some Italian shoes or $50K on a watch. But you do need to invest in some real leather shoes that will compliment any suit or casual wear.  You don't have to spend thousands to look like millions.  Now a days I see people wearing sneakers with suits and that is one of my pet peeves.  Respect the suit, a suit is to be complimented and respected because a suit is a high level of dress next to a tuxedo.  And stop fucking wearing earrings with suits or tuxedos.  Earrings are a women's accessory, I can't take you serious when you're wearing earrings in a suit. There's a time and place and never in formal wear, idiots.
My weapon of Choice in shoes is Salvatore Ferragamo and Rolex in Time Pieces.
I love this brand because it's classic and elegant, it will never go out of style because of it's Italian hand craftsmanship.  These shoes are not as pricy as a pair of Gucci but I love them because they hold their value.  They're reasonably priced but they can also get up there in cost depending on the style.  Keep your shit tight, make sure you're pairing your shoes to your outfit and most importantly to your watches.  You have to make sure you purchase a pair of good quality shoe trees also to make sure your shoes are staying fresh.
Same goes with my time pieces.  Since I'm investing my hard earned money in watch, I want to make sure I'm buying a watch that will only go up in value and look amazing no matter how I wear it.  To me having a time piece is an investment that will either go up or maintain it's value.  Be smart to look smart.
Matching your Metals
We all know that you have need to match your leathers and colors with your belt and shoes.  This is very true, but I take it a step further and match my metals to my watches.  What I mean by this is, now that my leathers and colors are match, I like to make the color of the metal on my watch, match the color to the metal on my shoes.  You don't have to do this but this will take your outfit to the next level and people will not judge and will be worthy of you.  Confidence will let you control the room, be confident in your appearance and your voice.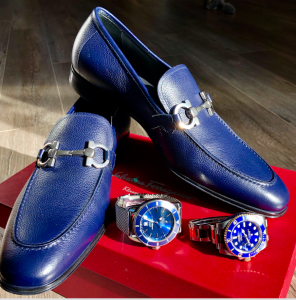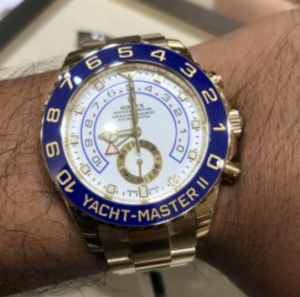 Ferragamo (Flori) Blue Leather, that compliments Brietling Super Ocean and Rolex Two Tone Gold Submariner
You want be to taken serious?
Clean your shit up.  Learn how to dress. Stop sagging and wear a suit that fits.  But like I mentioned your shoes and watch will elevate you status.  I can hear it now, I don't have money, I don't either but guess what I worked my ass off to get it.  How can I take you serious if you don't look serious.  I don't give a fuck that you're a hustler, you want the job then look like you want it.  As soon as I saw these blue Flori's I knew I had to get them because I have a couple of watches that have blue dials.  This was the perfect pairing of color and that took it to the next level.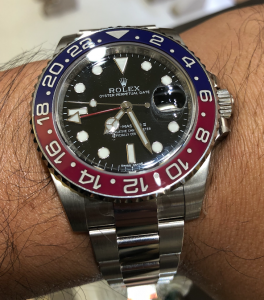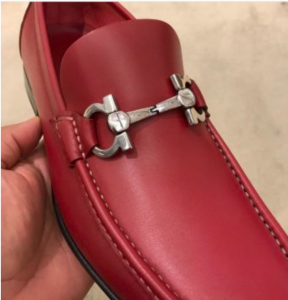 Ferragamo (Navarro) Red Leather, that compliments Rolex GMT Master II (Pepsi)
Your traditional colors are brown and black,
but remember I like to bring shock value to my outfit.  This is why I pulled out the Blue Loafers.  Now red, this is something you would probably see at the Players Ball in Atlanta.  But, if you make it classy and not wearing a big ass fur coat and a hat to match like a pimp, this will shut everyone up when you walk into the board room.  Granted, I would probably will never wear red shoes in a suit but this is more of a Sunday collection.  You know I'll have everyone staring.  "Who is the F in this bozo with the red"  It's just me showing you how to dress and be stylish.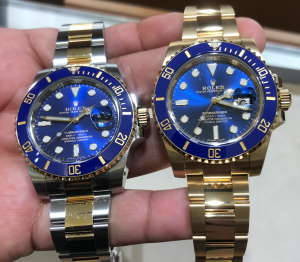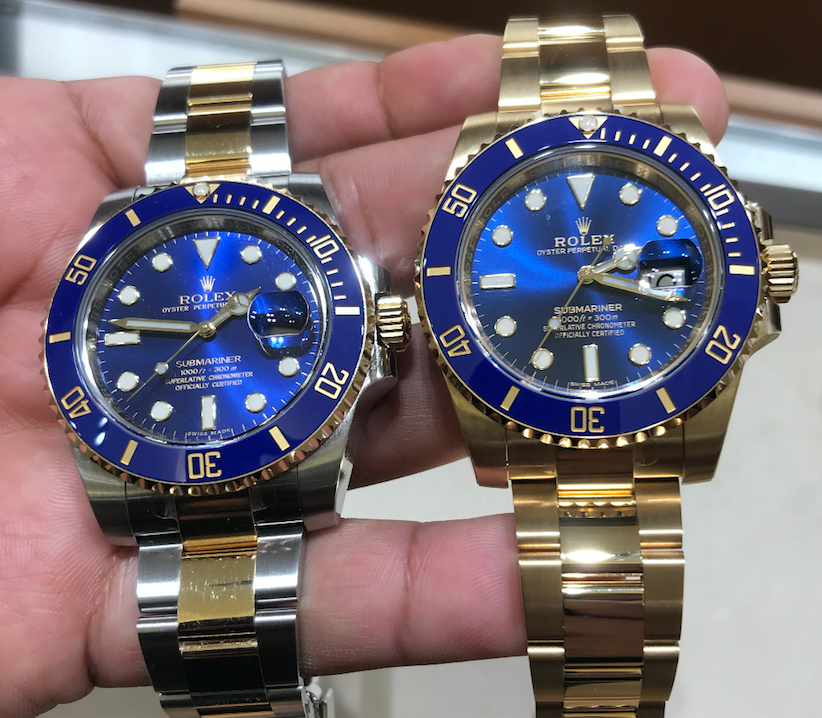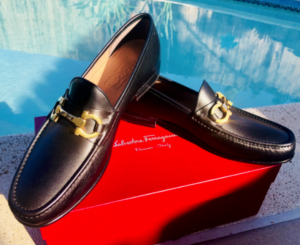 Ferragamo (Bond) oversized Gold Buckle, that compliments Rolex Two Tone and all Gold Submariner
I found these Ferragamo (Bond) Gold Buckles at Bloomingdales.  I knew these would go perfect with my Gold Rolex.  The great thing about having a two toned watch is, you can get away wearing them with both metals.  But when you wear the all Gold Rolex you have no choice but to pull out the Gold Buckle shoes.  Make sure you wear tapered slacks with these shoes, you need to show off that you have that Gold Buckle.  This combo will go great with a sports coat and maybe a crisp white button up.  Remember this and live up to this standard always…
"If you Feel Over-Dressed, this means, You're the Best Looking Person in the Room."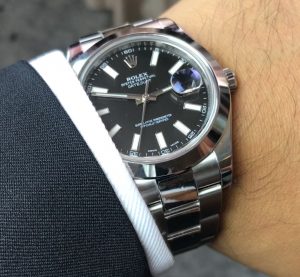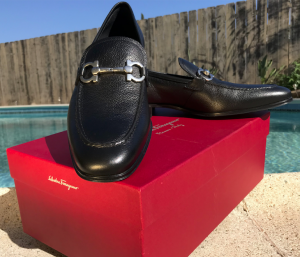 Ferragamo (Flori) Black Leather, that compliment Rolex DateJust
This is the Combo I like to Wear when it's Nothing but Business.
I don't want to be too flashy and out look the CEO in the building.  The Flori is a universal shoe that you can dress up and down, especially with the DateJust.  But you want to show everyone that you mean business.  This would be more of an executive look.  Don't bring out the big guns yet, until you have landed the deal.  Then after you have signed contracts and everyone has been paid then you can pull out the $50k watch with the $1000, Leather bottoms. Check out my video on this watch, but I had to compliment this watch with the Black Flori Ferregamos. Watch: Rolex DateJust II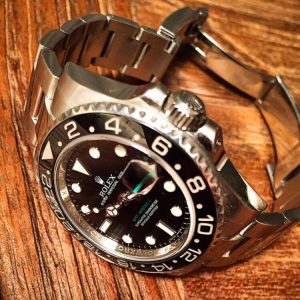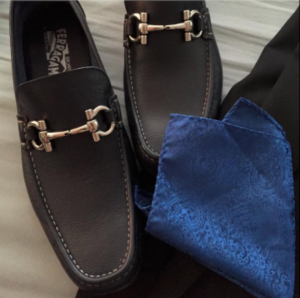 Ferragamo (Navarro) Navy Blue Leather, that compliments Rolex GMT Master II 
You guys should get the picture by now.  You want to be taken serious.  Look Serious, This will allow you not to be questioned.  But now you have to put your sales hat on.  Because you can look like a million bucks but if you don't know how to talk and sell, then you're all screwed up, one step at a time my friends.
Are you a watch enthusiast trying to protect your Rolex from scratches?
Introducing Phantom Protect Luxury Watch Guard – the toughest and most durable urethane film on the market designed specifically for luxury watches. It acts like invisible body armor while preserving your timepiece's look and style. Plus, it's easy to apply in just minutes!
You deserve peace of mind with your expensive investments and Phantom Protect can provide that along with stylish protection against everyday wear and tear. No more worrying about any minor dings or scratches ruining your premium look.
Buy now to get high-end protection for your luxury watch today! Be sure to check out our watch protection film.