I Bought my Wife a Rolex Oyster Perpetual Grape Dial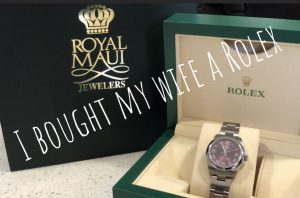 I bought her this watch for our 2 year Wedding Anniversary.  I was looking for a watch for me, but when my anniversary came up I thought it was a great idea to surprise my wife get her own Rolex Watch.  It was very difficult getting her the watch because the whole time I was shopping I was actually looking for another watch for me.  I was actually trying to buy her a watch that I was able to use also.  Sneaky of me right?  Well the way I look at it was, since she wears some of my watches, why not wear some of hers.  Originally I wanted to buy a Oyster Perpetual 39mm, which is a watch her and I can share.  They only problem is, anytime I wanted to wear it I would have to add links to it.  I didn't want to go through that hassle every time.  Also Read:  Does Wearing a Gold Rolex Make you Pretentious
I was buying for her not me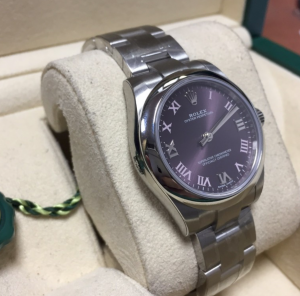 After looking at all the options my wife wanted a 31mm Oyster Perpetual.  I didn't like at first because when you purchase a watch so small, it will limit your market if you try to sell it in the future.  I would have to find a person that is going to buy the watch for wife, girlfriend, side chick.  Because a man cannot buy that watch for him.  But just seeing the face that my wife had when Royal Maui pulled out the watch, made it worth it.  I said, "Sure, this is your first Rolex."  I was looking at the investment opportunity, but at this point there wasn't any because it was just to put a smile on my wife's face.
You Snooze You Lose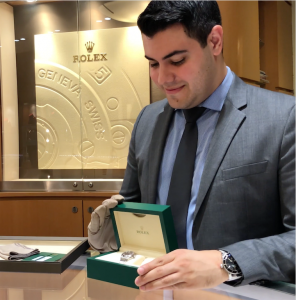 As always you don't make the purchase on your first visit, I wanted to do more research and see what the benefits of having a 31mm.  Finally after seeing that not a lot of people have a 31mm, I wonder why?  What I did is I went back and purchased the watch for my wife and guess what?  The freaking watch was gone.  They had sold it the very next day we went.  Ahh, I was so upset.  We did go to another Rolex store and they did have it there but I was faithful to Royal Maui Jewelers.  Plus, the to other Rolex store wasn't giving me a deal on the watch since this was the first time buying from them.
I had no choice but to order the watch now.  When I spoke to Antione at Royal Maui he mentioned that the watch was going to take about 4 – 8 weeks to order because of the shortage of Rolex watches Rolex is producing.  I didn't want to get it now because I didn't want to make payments on a watch that I didn't have, but my anniversary was coming up and I didn't want to lose out.  So I had to pay for the whole watch in full.  Damn, $5000.00 out of my pocket in one shot.  In order for Rolex to release the watch from the manufacture Royal Maui has to prove the watch was paid for and we were on a waiting list.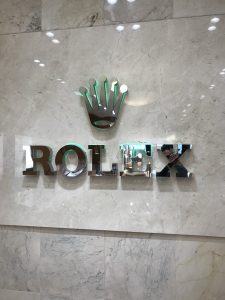 I Should Have Bought When it was in my Face
Should have, could have, would have, a lot of times you need to jump on the deal you have in front of you.  I was anxious waiting for the watch to show up.  Especially with my credit card bill coming and saying to me, "you owe us money for a watch you don't have…SUCKA."  To my surprise I don't know what Royal Maui did or what strings they pulled at Rolex, but exactly 8 days later, I get a call from Richard at Royal Maui.  He sounded more excited than I was, he told me the watch had arrived.  Hell, yeah, that weekend my wife and I raced to Fashion Valley and picked up the Rolex for her 2 year anniversary gift.  I made a video on my experience with Royal Maui.  They were kind enough to let me add it to my EsquireLife Video blog series.  Check it out.
Check out my Vlog and join me in my experience and review of this watch.
Thank you,
Are you a watch enthusiast trying to protect your Rolex from scratches?
Introducing Phantom Protect Luxury Watch Guard – the toughest and most durable urethane film on the market designed specifically for luxury watches. It acts like invisible body armor while preserving your timepiece's look and style. Plus, it's easy to apply in just minutes!
You deserve peace of mind with your expensive investments and Phantom Protect can provide that along with stylish protection against everyday wear and tear. No more worrying about any minor dings or scratches ruining your premium look.
Buy now to get high-end protection for your luxury watch today! Be sure to check out our watch protection film.