"This is one of the best FUCK OFF Watches."
– Paul Pluta of Archie Luxury
To quote on of my favorite watch experts.
 This is a review of my recent watch purchase.  I purchased another watch at Royal Maui Jewelers in Fashion Valley, CA.  This is a Timepiece that I've dreamed about since I was in my mid 20's.  I always wondered, "Who in there right mind to spend that type of money on a watch?  So obviously, it made me want it more.  Every time I would walk by a jewelry store, I would always window shop and think to myself…
"I will come get you soon."
Less than 20 years later, I walked into the store and said…
"I'm here to take you home."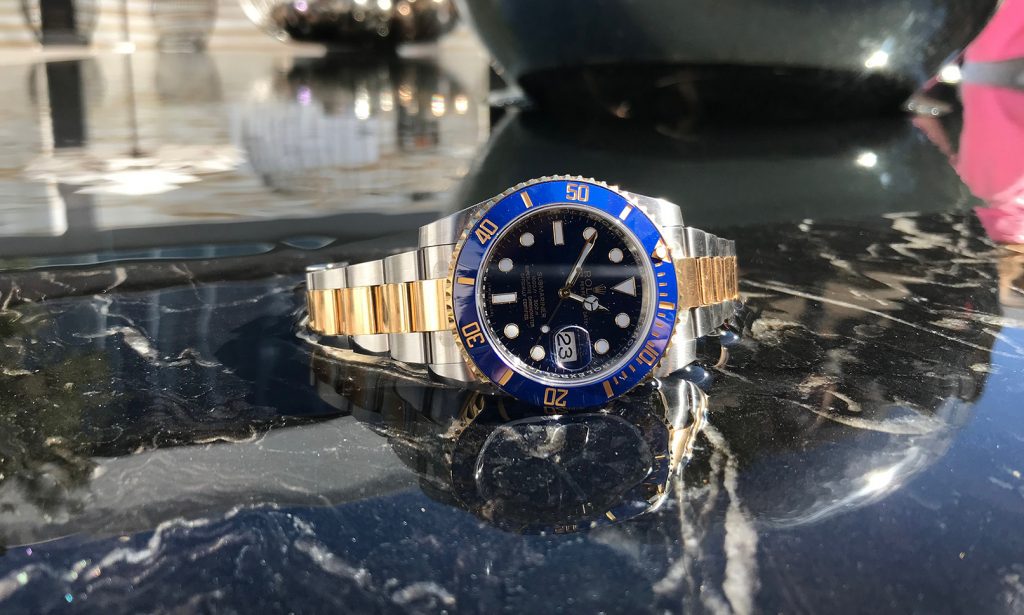 I have Luxury watches that I own, but not of this caliber.  What I mean is, I've always been conservative when it comes to purchasing my watches.  Some of my watches consist of, Panerai 104, Panerai 510, Rolex GMT II, Brietling SuperOcean 46, just to name a few.  Now my prized possession is my Rolex Submariner Two Tone – 116613LB,  I've never wanted to have something so expressive because it always brings up the topic,"Is that a real Rolex?"
Now that I'm older and yes more mature.  I really don't give a fuck what people think.  The cost of the watch does not matter.  This watch to me was a reward for all my hard work.  So if you want to call it fake, just remember this, My wrist watches might cost more than what you probable drive.  I don't want to come across as a snob, but now I know what it takes to have to luxuries of life.  Pain, Sweat, and Hard Work.
Holy Crap, I just stepped up my watch game.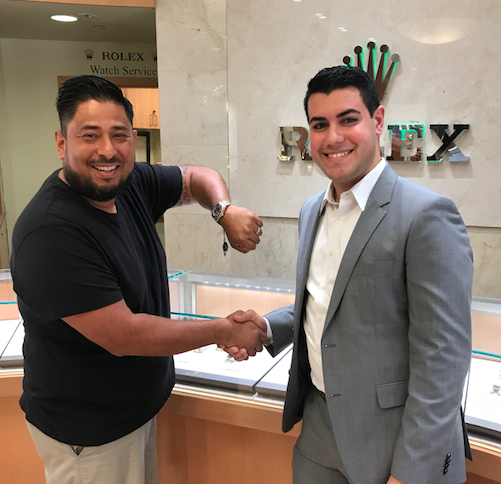 (Aontoine and I at Royal Maul Jewelers in Fashion Valley Mall)
I was floored when I watch Paul Pluta's YouTube Channel, in his, "10 watches that will that will tell everyone to Fuck Off."  He mentions that the Solid Gold and Blue Face Rolex Submariner are one of those watches that says, you have made it. Well in his words a, "Fuck Off Watch".  Meaning, when people see this watch they will know they value and respect one gets that owns one of precious master pieces like this.  He also mentions other watched like Patek, and AP, but those timepieces are also on my list.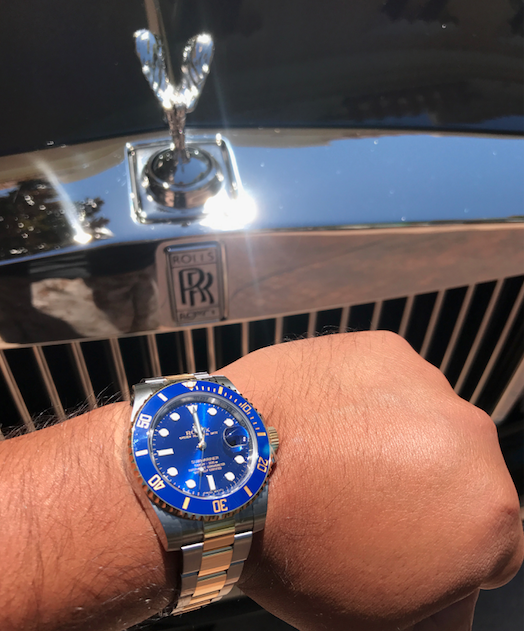 What I did almost 20 years ago was set realistic goals.  Some of my goals in life was to be educated, to experience home ownership.  I've owned fancy cars and ran a success business. Most importantly a big goal for me is to have a beautiful wife.  Every goal I've had in life I have hit and surpassed.  They might be goals that everyone strives for, but these are mine.  One day, I had one person one time tell me, "You must get paid the big bucks?"  I quickly responded, "No, I just work harder than the next person."  So having this watch might tell someone to "Fuck Off."  But to me it's a Trophy/Reward telling me, "You have accomplished another Goal, now work even hard to get the next one."
To quote Paul Pluta one more time:
"The Struggle makes a real man, not the Watch."
Thank you so much for reading and understanding my passion.
Ruben at EsquireLife.com
 Don't forget to stop by my YouTube Channel.
Please Like and Subscribe.
Are you a watch enthusiast trying to protect your Rolex from scratches?
Introducing Phantom Protect Luxury Watch Guard – the toughest and most durable urethane film on the market designed specifically for luxury watches. It acts like invisible body armor while preserving your timepiece's look and style. Plus, it's easy to apply in just minutes!
You deserve peace of mind with your expensive investments and Phantom Protect can provide that along with stylish protection against everyday wear and tear. No more worrying about any minor dings or scratches ruining your premium look.
Buy now to get high-end protection for your luxury watch today! Be sure to check out our watch protection film.