Your Watch will say A lot about your Age.
Being in the watch game for over decade now, I have observed different styles of watches.  But still to this day I've always found Rolex watches classic and never changing.  I guess if it's not broke don't fix it.  Through out my life I've always been fascinated with watches.  Now that I have gotten more serious about these timepieces I've noticed a trend with men and watches.  As you get older your mind shifts and you start to go delirious.  I just hit 45 years old and holy shit a train just ran me over.  My bed time is now 2 hours earlier and my idea of a good time is watching my wife and dog walk in the park.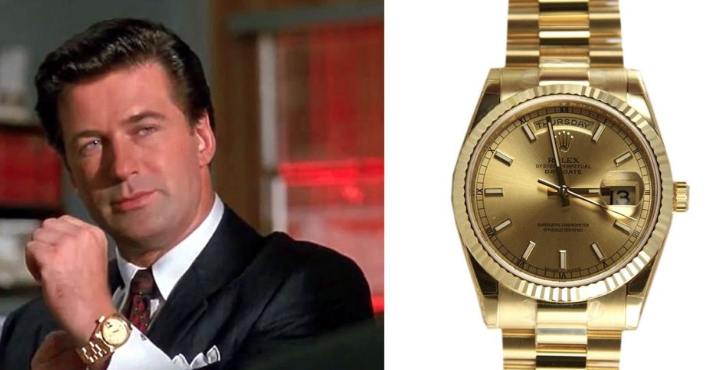 Now that I am older, my taste in watches has changed.
Rolex will always be the premier brand for me and this is why I own various models of these beautiful timepieces.  Eventually I want to move out of Rolex and take it to the next level and go Audemars Piguet.  First of all my budget is not yet there to purchase a $53,000 AP Royal Oak all Gold.  But for now I'm just going to go over what age your watch should tell you and others.  This is just my opinion so stop your fucking bitching and say stupid things like, "Well, I'm 18 and I have a Iced out Presidential."  Ok, bro, it's either Fake, Stolen, You're Parents are Rich, or you're a Bitcoin Millionaire. Either way, Just shut the fuck up, this is my blog bitch. Also Read:  Does Wearing a Gold Rolex Make you Pretentious
Rolex DateJust: (Age 28 – 34)
(Price $7,350)
This watch shows me that you're starting to be successful in life and you want a good start off conservative watch but not too flashy.  My guess is you're an executive but not quite yet a chief.  I respect this watch a lot.  This is a great suit watch that will show others, you need to take me serious.  You might not be a VP yet, but if you listen and follow my lead, you mother fuckers will start answering to me in the future.  When I see a man wearing a DateJust I tip my hat off to him.  DateJust is a great watch that looks good dressed up especially with a fluted bezel and casual for play. This was my starting off watch and still to this day it's a watch that demands respect.
Rolex GMT Master II (Age 34 – 38)
(Price $8,450, Pepsi Version $36,750)
Now you're the big dick.  You have just been promoted and you want to say fuck the world.  The GMT is a watch that you're ready for the world.  Sacred is not even in your vocabulary.  This is a little tricky but older men wear the GMT because this was their watch they strived for, especially when you go back to the 2005 or later GMT Coke and Pepsi edition.  What I've noticed is men with the Aluminum Bezel GMT, some of those fucking watches are collectables.  So in that category it will put you out of age range, but the Ceramic Bezel is that age appropriate watch.  When I bought my GMT I was 38 and I was more comfortable in life I had just bought my first house and had my 2nd BMW 650.  The GMT was a great watch to enter into your 40's
Rolex Submariner (Age 38 – 44)
(PRICE $13,400)
By this time, I just started seeing a little bit of grey hair on your head.  You no longer care about chasing ass, because you think with your mind and not your dick.  I don't give a fuck what others think, is your new mind frame.  Investing or have a couple of businesses is now your main focus, because you want your money to grow.  People are now starting to ask you for advice.  This is the age where I started looking at life and started planning my life in a straight line.  Long term goals are now starting to come true.
When I bought my Submariner I was already married and on my 2nd home and now drive a fucking Tesla.  I didn't go ALL Gold on my Submariner, but I surprised all you bitches with the Two Tone.  This is telling you, "Oh Shit, this mother fucker means business."  When you walk into a room everyone is like dang.
Rolex Yacht Master II or Submariner All Gold (Age 45 – 48)

(PRICE $34,250)
Now you don't give a fuck about the world.  By this time your hair is about 65% grey and you're strutting into any place with your hot ass wife.  With this level of watch you're probably also rocking a similar level car.  Maybe a Porsche GT3 RS because you know that mid life crises is starting to kick in.  No one will ever doubt you wearing this caliber of wrist porn.  You can walk into any dealership and say, "I will take it bitch."  People might be scared to come and talk to you because they know you don't have time for them.  Everything is strictly business from now on.  You're checking your stocks or your crypto coins. You get pissed the fuck off because you lost $1000 on the stock market.  At this time you tend to be a little more grumpy because idiots are not at your level.
Rolex DayDate Presidential (49 – 55)
(PRICE $39,300)
Fuck you and the Invicta Watch you rode in.  When you see anyone in a DayDate, you better not look this person in the eyes.  This watch is Royalty.  There's no faking this watch.  You're now a real CEO, not this self appointed titles these wanna be's call them selfs.  Fuck your BMW and your Tesla, you are now driving a Bentley or Rolls Royce.  Eating 20oz steaks for breakfast isn't shit and your drink of choice are now Scotches that are $100 a glass. Your ass only gets 3 hours of sleep every day because you're running business all over the world.  Please don't fuck with me, is what this watch says…Respect it.

(PRICE $43,550)
Las Vegas is your best friend and Steve Wynn has you on his top 5 call list.
Even though this might sound comedic, this is my take on how I see the watch game. I wasn't handed anything in life and others can attest to this.  But I look at watches as an investment in me and an investment in my money.  In my opinion you can't start off at the top, you need to work at the bottom as a go boy in a company or business and 20 years later you're the top executive.  Each one if these watches you need to strive for.  If you can afford the top, well good for you, but remember this your life's attitude has to match.  Respect the brand, I'm able to afford the AP Royal Oak and the Platinum DayDate, but money doesn't buy respect and I have a Mortgage.  Make the watch price hurt because you will appreciate it more.
"It's the struggle that makes the Man, not the Watch."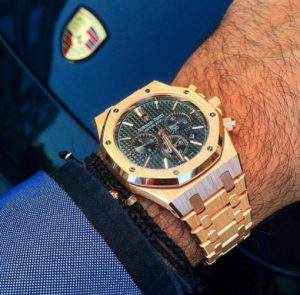 (PRICE $53,195)
Are you a watch enthusiast trying to protect your Rolex from scratches?
Introducing Phantom Protect Luxury Watch Guard – the toughest and most durable urethane film on the market designed specifically for luxury watches. It acts like invisible body armor while preserving your timepiece's look and style. Plus, it's easy to apply in just minutes!
You deserve peace of mind with your expensive investments and Phantom Protect can provide that along with stylish protection against everyday wear and tear. No more worrying about any minor dings or scratches ruining your premium look.
Buy now to get high-end protection for your luxury watch today! Be sure to check out our watch protection film.