"A Successful Man will be Judged
by two things in life, his Watch and his Shoes."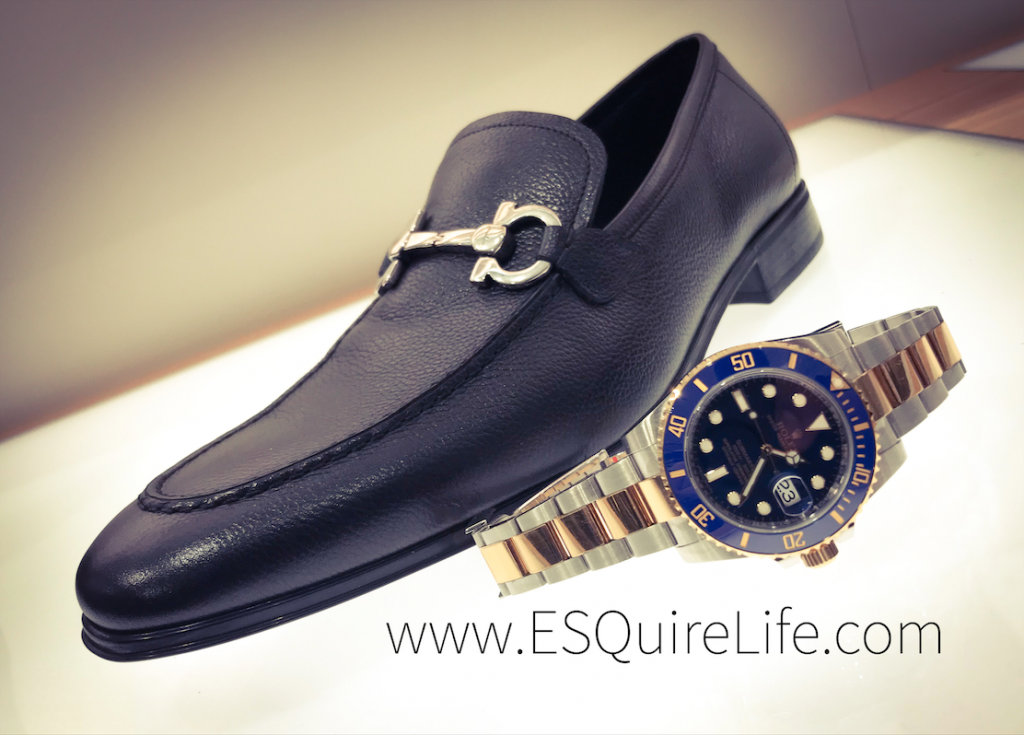 In society today we're judged for everything we do and wear.  Women get judged for the Purse they carry and men get judged by the car they drive.  In my opinion I love giving these idiots something to judge me by and also make them wonder.  But today I'm not going to be talking about cars or purses.  I want to share with you my opinion of..
The best shoes to wear if you want to be taken serious. 
In my previous blog The Best Watch to Wear with a Suit I talked about my favorite watch that I wear with my business suit.  I really got some good feed back from readers, and even people asking me alternatives to watches.  Like I've mentioned before,
"Every Man Should have at least one Good Watch."  
Well now I want talk about some of my favorite shoes that I wear with my suits.  Your tradition shoe, especially with a business suit is a lace up.  Allen Edmonds makes some beautiful suit shoes that I wear and as you see they are not very eccentric and whom ever is on the receiving end will appreciate your style.  As you see in the picture below how just changing the color of the shoe changes the entire look of it.  Very classic brand and recommend to wearing these to your next business meeting.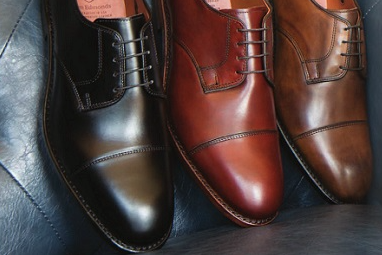 (Picture Source: Dappered.com)
As we all know the style of dress has gone to shit because of people not taking pride in themselves anymore.  There used to be a time when Men would wear suits everyday.  With change comes trends, I do wear lace up shoes when going to a business meeting.  Recently, the fashion chains have been broken and fashion has let loose it's regualtions somewhat.  I have embraced that change and this is why I've adapted wearing loafers or moccasins with my suits.
(A Gentleman in the 1940's looking stunning in a suit and lace up shoes)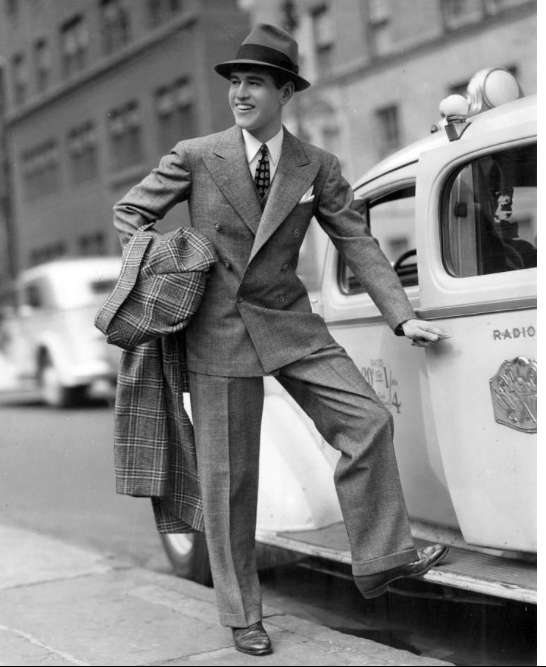 (Picture Source: Pintrest.com)
The great things about wearing loafers with a suit is because you have two outfits in one.  Once you take your tie off and unbutton the top two buttons you have now have a casual suit.  This is why I love wearing Salvatore Ferragamo Shoes.
I have a couple pair that look exactly the same but the color changes depending the color of suit, slacks or jeans I wear.
Pictures from my Social Media: (Follow me on Instagram @esquirelifenow)
(My beautiful Wife and I, I'm rocking the Blue Ferragamo in Casual Suit)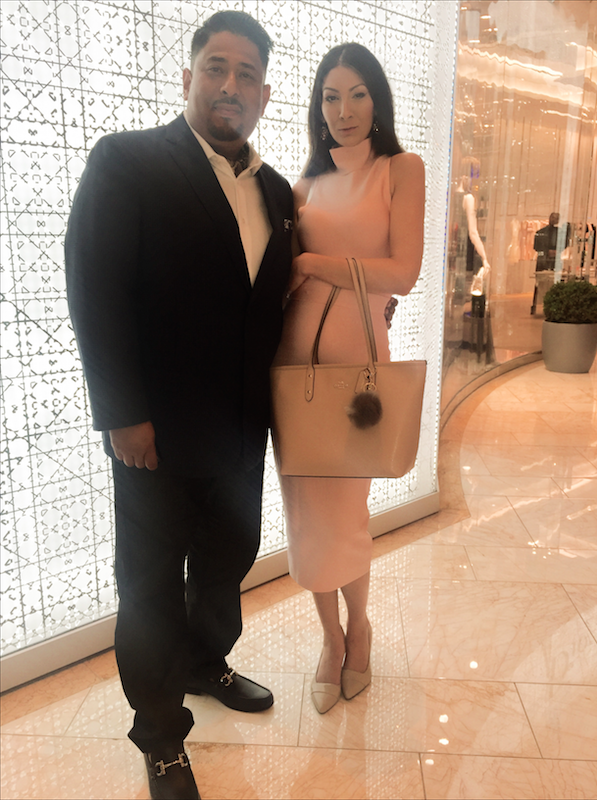 What I really wanted is to find is a more dressier Ferragamo loafers that would compliment a business suit and casual suit at the same time.  That way when I take my tie off, I would jump down to casual dress, instead of dropping all the way down to semi-casual.  And guess what?  I found it.
Flori 2 Moccasins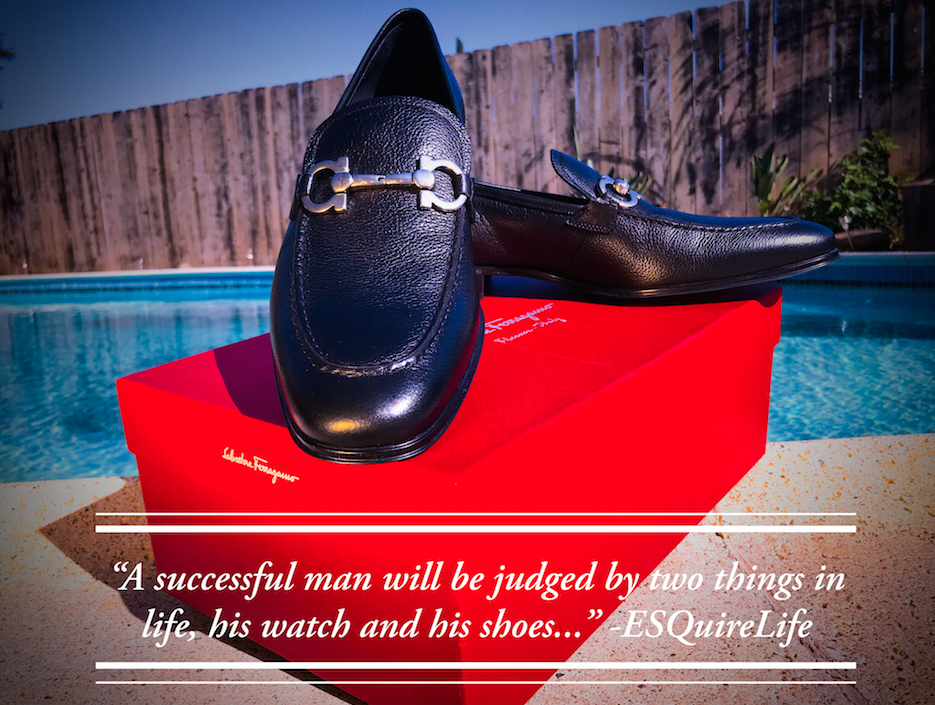 My wife and I went shopping at the University Town Center (UTC) Mall in La Jolla, CA.  La Jolla being one of the prestigious places to live in San Diego, CA.  We love shopping there because they allow dogs to walk there and we take our Bichon Frise Dog "Rosie" there.  After scouring the whole mall the for Perfect Ferragamo Shoes, I walked into the new addition of the UTC mall found Nordstrom's.  Upon entering the Men's Shoe Department I was greeted by the Salesperson there by the name of Alfonso.
Alfonso was very knowledgable about the Ferragamo brand.  He was able to make me feel secure and comfortable, especially since I was about to spend $595.00 ($640.00 after tax) on a pair of shoes.  You're paying more for a shoe that's going to last.  And most importantly you're paying for heritage and craftsmanship in the Italian brand.
Ask for Alfonso, next time you're in San Diego, CA at UTC Mall
Alfonso was able to relay that to me so I can feel at ease with my purchase.  After Alfonso brought out the Flori 2, I fell in love with the shoes.  The shoes were a little tight on the sides, but he had the right tools to stretch them out and they fit comfortable after that.
 "I bought them, the most beautiful shoes I have ever owned."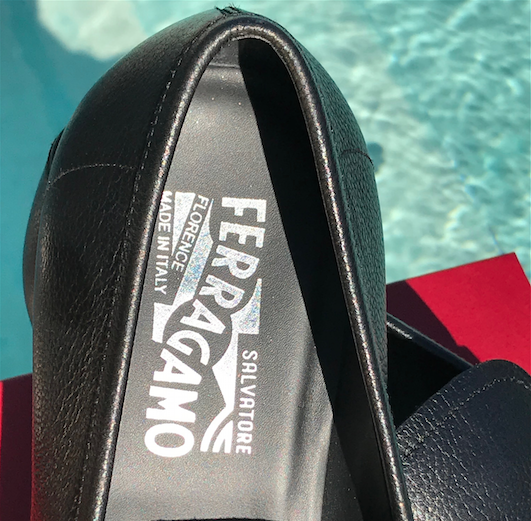 Now I feel better when I'm in a business suit.  These shoes have the curves of a lace up and the buckle gives it that signature look Ferragamo is known for.  Now I have a versatile shoe that can be Business, Business Casual, Semi-Casual. So if you divide the purchase price in the amount of uses you can get out of them, It's really worth the money.  As you see in the picture below, I'm wearing the Flori 2 with some Banana Republic Slim Fit Jeans.
You can now see wearing the right pair of shoes with the right outfit will take your serious game to the next level.  As a business man I want to make sure that the person on the other side of the table takes me serious, because my outfit is serious.  You can't talk about being successful if you can't show your success.  People judge you, but like I mentioned, you will have them wondering why you are successful.