Should Women Wear Men's Luxury Watches? YES!
We're seeing more ladies wearing hefty badass watches designed for men
Watches have become more unisex.
Let's face it, luxury watches are stunning… who wouldn't want to wear a luxury watch?
With watch elements of Gold, leather, platinum, fluted bezels. Add a hefty price tag and now you have quality fashion fit for a King or a Queen! ? ?
Furthermore, they're a status symbol. With women wearing luxury goods such as designer bags, shoes, and belts, why not luxury watches? Also Read:  Does Wearing a Gold Rolex Make you Pretentious
Men, Do you like seeing women wearing more men's watches? YES!
To me it really all depends what she's rocking.  I wouldn't like to see them in a Hublot Big Bang or a Casio G-Shock.  But maybe a Rolex Oyster Perpetual would look stunning on a woman's wrist!  Now if I see a woman in a 41mm DayDate Presidential, I might just have to bow down and let her walk in front of me. That is THE watch of a BOSS.
Can a woman wear a 40mm watch?
Yes. Here's my wife wearing a 40mm watch on her tiny wrist. She loves it. She's also secure in her femininity and wears it with confidence.
MY WIFE ROCKING A TWO TONE ROLEX SUBMARINER
⌚️
?

 (Read: I Bought my Wife a Rolex)
Masculine watches for ladies
Rolex DayDate Presidential
Rolex DateJust
Rolex Submariner
Rolex Daytona
Panerai
Hublot
Audemars Piguet
Women are now more empowered why not wear a watch that empowers a man?
The reason I say that is because we're so used to seeing women wearing small delicate watches but in 2018 trends have changed. The Oyster Perpetual is a 39mm watch that would compliment a women's wrist but let's not stop at a conservative level.  If you look at ladies now a days, they love rocking 40mm and up. Now that will make men shy around a powerful woman.
Oyster Perpetual (Picture Source:  Hodinkee.com)
Here's a great example of a woman wearing Men's Luxury watches
At this point in age, I don't even think I should call them Men's Luxury Watches, just call them Luxury Watches.  Here's Charlize Theron wearing a 44mm Rolex.  It really fits her well, as she is dressed casual in this picture while eating popcorn front row at a basketball game.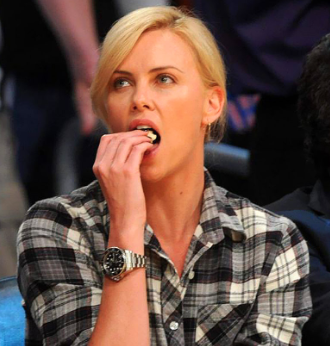 Women's watches are simply too small for functionality
"How in the hell can they see the time.., That watch is so small."
My wife considers tiny dainty watches out of style. I took her shopping for a Cartier watch and she said
"no way Jose. They look like something my grandma wore in the 1940's."  Sure, they're classic, but she prefers a more modern style.
She says men's watch styles have evolved more than women's watches.
"How in the hell can they see the time.., That watch is so small."
(Picuture Source: Bobwatches.com)
Hey, women are making as much or even more than men now
First, if a woman can afford a Rolex Daytona then more power to her.
She can floss it all day like nobody's business.  I know what might go through others minds,
There are a lot of powerful successful women in the world.  And we have to respect that… We almost had a women president.  The other day I saw an older seasoned woman wearing a 40mm Presidential 18k yellow gold with a black face Rolex.  Oh my God, my eyes just gravitated towards her wrist.  No question that watch was hers.  I was very impressed.  If I were to vote for a woman President it would definitely be Sandra Bullock.  She's Classy, Beautiful, and Smart… just like my wife.
My wife is always asking me what my fascination with watches are.  She's finally understanding that it's therapy for me.  "An Expensive Therapy."  I want to let her have the experience of owning her own Luxury watch.  I wanted to buy her a Rolex 31mm DateJust and she didn't like the size.
"That's what she said."
The great thing about having women wearing men's luxury watches is that, you guys can swop watches through out the week.
Here's 5 reasons why my wife loves wearing my watch…
It feels like I'm with her
She enjoys the eye-catching boldness of a larger size watch
Loves to mix feminine luxury handbags, shoes, and fashion with masculine watches
She loves feeling like a badass, leveling the playing field with business men in boardroom meetings
She knows it intimidates men
Why not mix and match a Louis Vuitton bag with a Rolex? 
Here's another shot of my Submariner on my wife's wrist while shopping for water
It looks like a bracelet on her.  But at least when other men see her $12,000 wedding ring and $13,400 Rolex watch, they will think she's very high maintenance and leave her alone.  "You can't afford her…" LMAO.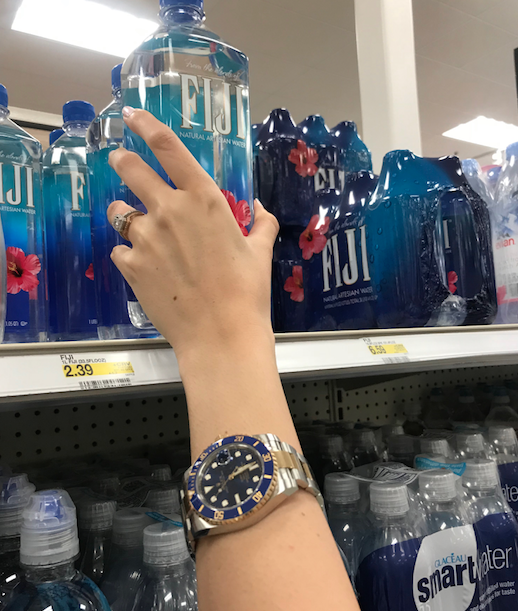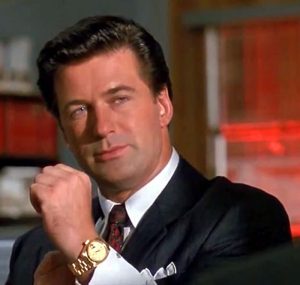 "That's probably her husband's watch."
I want to see a woman in a 18k Gold 44mm Yacht Master II and think to myself,
"That woman is a hard worker and her rewards are warranted."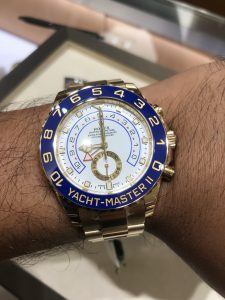 Here's my latest visit to Royal Maui Jewlers checking out the $43,000 Yacht Master II.
Here's the picture of the Rolex Oyster Perpetual DateJust with flowers on it.  It looks good but I rather see the men's version on a woman.
In conclusion, ladies should feel comfortable wearing men's luxury watches.
You shouldn't feel like you're being masculine. Nobody should have a problem with it right? It's jewelry after all!
Next time you see a woman wearing a man's expensive luxury watch, don't criticize her, but praise her!
Because, she might be wearing a BETTER watch than you!
Are you a watch enthusiast trying to protect your Rolex from scratches?
Introducing Phantom Protect Luxury Watch Guard – the toughest and most durable urethane film on the market designed specifically for luxury watches. It acts like invisible body armor while preserving your timepiece's look and style. Plus, it's easy to apply in just minutes!
You deserve peace of mind with your expensive investments and Phantom Protect can provide that along with stylish protection against everyday wear and tear. No more worrying about any minor dings or scratches ruining your premium look.
Buy now to get high-end protection for your luxury watch today! Be sure to check out our watch protection film.