Stop Wearing This You Look So Stupid
Ok boys and girls, I'm about you wake your asses up. I want to let you know that you look so stupid when you wear certain things wrong.  It's not that you're wearing things wrong because they're no rules on how to wear clothes or accessories but there is a time a place for things.
The only reason I am writing this blog is because I try to be and look professional everywhere I go.
The way I dress and carry myself you would automatically know that I am a well put together and educated .  The next time you're in a situation and wonder why you're being treated different, just look down at your wardrobe and see. "You look like an idiot and no one will take you serious."
I work in a professional environment and I have to look the part and act the part.  Well guess what, so do you.  I sometimes wonder if people look in the mirror before they leave?  The other day neighbors at the company I work for were having job interviews and you should have seen the clowns that showed up.  When I say clowns you would automatically know what I was referring to.  Don't get me wrong each one of them had a suit on but they had accessories that looked so dumb.  It just killed the rest of your outfit.
Here are the five fashion turn offs that you should
never, never, never, wear.
#1 Sunglasses behind your head.

Since I was talking about seeing people waiting for a job interview.  This guy had on a black suit, but the suit looked like he was a hit man for a mobster.  Black suit, Black Shoes, Black Shirt, White Tie, and guess what?  Florescent Green Oakley's tied the the back of his head.  He looked like that total dumbs ass.  To add salt to the injury his sunglass were plastic.  That's a big no no, read Sunglass Not to Wear with a Suit.
What fucking annoyed me is that he was the talker in the bunch.  On how he used to work at another company and he was the top earner them and the the reason why he left was because there was no room to grow.
Bro, Shut the Fuck up.  Remember, where you're waiting for a job interview, you don't know who in the fuck is watching.  Check out, 5 Things Not to Wear to a Job Interview.  Plus, your outfit stands out like a sore thumb and all the attention is already on you, because your dumb ass doesn't know how to dress.
#2 Sandals to restaurants.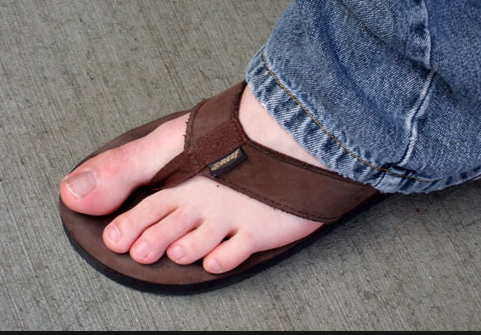 I wrote about this before in my previous blog, "Your Feet Are Disgusting." Every time I see this at a restaurant I want to just walk up to this man and say, "Bro, I'm eating here, take your ashy, ingrown, crusty, long toe feet out of here. Yesterday my wife and I went to a what I thought was a 4 star restaurant.  She wore a beautiful dress, I had on a suit jacket and collard shirt with leather loafers. As I'm eating my rainbow trout while sipping on my white wine, I see this man walking by my table wearing sandals and jeans. Seriously dude. You're in a 4 star restaurant.  I honestly can't blame him, I have to point the finger at the restaurant for allowing him to walk in, in sandals.  If I can make an effort to look good so can your lazy ass.
If you want to see what I look for when I wine and dine read, 5 Things to Look for when you Fine Dine.
#3 Cell phones in your Back Pocket.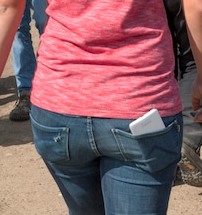 This one is going to be more for the ladies.  Hold on, don't start bitching.  Since we're on the topic of restaurants, this one just makes you look so dumb and unprofessional.  Let's come down in stars of restaurant and talk about your regular restaurants. Yes I eat at regular restaurants also.  There's a favorite restaurant that I attend frequently because its only 15 minutes from my house.  It rhymes with Bhili's.  Every time I go there I always see the waitress walking around and in the back pockets of their jeans there's a huge ass phone sticking out.
The other day this small petite waitress had a iPhone 8 Plus with case in her back pocket.  Every couple of steps she had to stuff the phone back into her pocket.  Holy Shit, put your phones away.  You're at fucking work.  If it's an emgergency for someone to get a hold of you then they will call the restaurant.  Unless you're a Dr. and or on call, then leave the phone in your car, purse, locker.  You look so stupid.  I also blame the managers for not enforcing that.  You're in uniform.  What this shows your customers is that you're a Glow Gal a Social Media Junkie.  You need your phone every where you go.  You have Fear of Missing Out syndrome.
#4 Bluetooth Neck Wear.
Since we are talking about technology.  Who in the fuck wears these ugly things.  You really have to have to take that call?  This is not fashion.  The other day I saw a wedding party and half the guys were wearing these.  This guys were in tuxedos.  To top it all off half this mother fuckers where staring at their phones the whole time. Why in the fuck are you wearing that bluetooth device in a luxury dress suit and staring at your phone.  Where's Joan Rivers and her Fashion Police.  Oh ladies don't think your off the hook.  Women look so unattractive wearing this.  Half the time it's just sitting on your neck.  Are you waiting for the important call?  Maybe it was that job interview, that you showed up with your phone in your back pocket and your sunglasses on the back of your head.
#5 Construction Shoes in a Suit.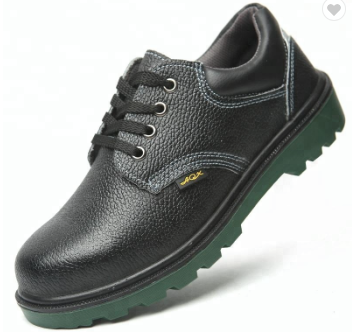 Who told your that construction shoes are Dress Shoes.  I see this time and time again.  Read my blog on, What a Man's Shoes Says about Him.  I honestly think, that all these men are getting dressed by their mothers.  "But I can't afford expensive fancy shoes."  Dude, you're wearing safety shoes or construction shoes.  The other day I saw an idiot wearing Doc Martins in a suit.  Either you are Stupid or don't know your Stupid.  Remember as a man I look at two things when I'm looking at you, Your Watch and your Shoes.  I can't take you serious then both of those are fucked up.
BONUS
I don't know why I waste my time talking about this anymore.  People are always complaining that no one takes them serious, when half of the problem is in your appearance and how YOU BE SPOKEN IT, HOW BOU DAT?
Since I'm a big watch enthusiast.  I'm always looking to see what's new out there and see what people are wearing.  Remember I look at two things on a man, especially if you are coming at me all successful and shit.  Please don't try to perpetrate because this is the final fashion flaw.
#6 Fake Ass Watches.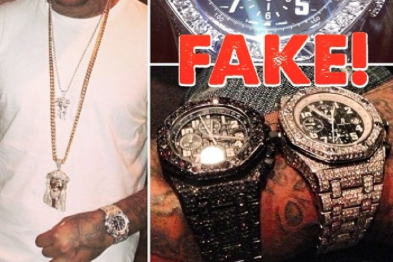 I tell you what, they're some good looking watches out there.  A lot of time these replica watch companies do a good job that it even fools me half the time. But what really shows me that your watches are fake is when your watch is eccentric as fuck.  Why are you wearing this watch that is covered in diamonds and this the focal point of your whole outfit.  Don't forget that Gucci Belt. Supposably your watch is worth $30,000 but you're wearing $15.00 work pants and sagging.
Your earrings are so big and fake I can see the tarnishing in your earlobes and your drive your mom's Toyota Camry.  To me that doesn't make sense.  If you over accessorize people start questioning your shit.  I have many luxury watches.  I like keeping my watches stock.  As much as I want to wear a fully diamond encrusted Audemars Piguet Royal Oak that's worth $100,000, no body is going to believe it's real because my home, cars, lifestyle doesn't compliment it.
The other day I saw this kid wearing a Rolex Yacht Master.
I asked the kid.  How long have your had your Yacht Master watch?  This kid looks and me and says, "No It's a Rolex." Then he got into his 1998 Honda Civic and drove off, while wearing his sunglasses on the back of his head, while talking on his phone and his bluetooth neckpiece.